The Region's Leading Orthopedic Specialists
OrthoConnecticut is a multispecialty practice staffed by leaders in orthopedic care, and is the united practice of Coastal Orthopedics, Danbury Orthopedics, New Milford Orthopedics, and Connecticut Pain Care. The practice's Centers of Excellence provide integrated treatment, offering individualized and compassionate care by a team of board-certified, fellowship-trained specialists. The goal of the practice is to help patients regain mobility, lead active lives, and attain optimal health.
OrthoConnecticut is dedicated to providing both operative and nonoperative solutions to musculoskeletal problems. We diagnose and treat the complete range of orthopedic issues that affect quality of life… with minimal wait time and a more efficient patient experience.
We care for more than 36,000 patients annually and perform over 7,000 surgical procedures each year— which means that we have the experience to provide the safe and effective orthopedic care you need. All of our specialists have achieved the highest level of expertise attainable within their chosen field, and we have been pioneers in the implementation of revolutionary surgical procedures for patients of all ages. Our medical staff will continue to focus on developing the most technologically advanced solutions to ensure that we remain at the forefront of change.
---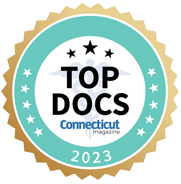 Our commitment to excellence includes outstanding patient care and service. You have guaranteed access to a doctor within 48 hours—the same day for emergency situations.
Our patient-care offices in Danbury, Darien, Litchfield, New Milford, Norwalk, Ridgefield, Sharon, Southbury, and Westport allow you to get the attention you need close to where you live or work.
OrthoCare Express walk-in, orthopedic urgent care services at 4 convenient locations; Danbury, Darien, Norwalk and Westport.
We work in partnership with your other health care providers to provide the most successful comprehensive treatment plan for your musculoskeletal challenges.
We use only state-of-the-art digital imaging, which facilitates the sharing of information among your medical team members.
In addition to your surgical staff, we have physical therapists, chiropractors, pain management specialists, and a podiatrist onsite to aid your recovery.
As a group, we are committed to providing comprehensive care to Fairfield County, Litchfield County; New York State's Columbia, Dutchess, & Putnam Counties; and the Great Barrington region of Massachusetts.
---
Areas of Expertise
All OrthoConnecticut physicians are board certified, fellowship-trained orthopedic surgeons with specialties covering a range of orthopedic areas including shoulder, knee, hip, foot, ankle, hand, wrist, elbow and spinal conditions for both adults and children. Many perform state-of-the-art full and partial joint replacement surgeries, as well as sports medicine and custom orthotics and bracing. OrthoConnecticut's specialists can also provide pain management and regenerative medicine treatment.

Many of our surgeons take trauma call at Danbury, New Milford and Norwalk. Some do procedures at Yale New Haven Hospital as well. Feel free to ask our physicians about their background, experience and training.