Meet the OrthoConnecticut Physician Dr. John Dunleavy
March 15, 2022
Aches and pains can be a thing of your past once you meet Dr. John Dunleavy, hip and knee specialist at OrthoConnecticut.
Dr. Dunleavy is passionate about orthopedic care and is committed to serving his patients for both expected and unexpected visits.
As an award-winning joint specialist, many can find Dr. Dunleavy educating others at seminars on an array of joint replacement topics. His work is regarded as life-changing by his patients, "...Dr. Dunleavy replaced both my hips. I am now pain free. He is extraordinarily dedicated with a laser-like focus, highly professional and knowledgeable and soon he will be performing surgery on my husband's knees," said one patient.
"I received professional, caring and thoughtful treatment from Dr. Dunleavy for terrible hip pain. After having both hips replaced I am pain free for the first time in years. It has made a huge difference in the quality of my life and I am very grateful to Dr. Dunleavy for the wonderful care I received," wrote another.
Earning his Doctor of Medicine degree from Georgetown University, Dr. Dunleavy trained at Brigham and Women's Hospital at Harvard University and has extensive experience in orthopedics. He specializes in hip and joint replacement surgery, and can treat patients for a variety of ailments such as; fractures, dislocations, arthritis and osteoarthritis. His excellence in the field is not limited to the operating room as he can also be found giving extensive presentations to patients and aspiring surgeons on the topic of orthopedic issues and procedures.
It is this same robust knowledge and experience in orthopedics that has led Dr. Dunleavy to OrthoConnecticut where he serves as one of the practices' top hip specialists.
Q: Why is OrthoConnecticut an important part of the Ridgefield Community?
A: Dr. Dunleavy: We are here to serve the local community with top notch, state-of-the-art orthopedic care. What's great about OrthoConnecticut's Ridgefield office is that many of us at the practice actually call Ridgefield "home." We are experts in the field, living right here in town. We are active in the community from coaching to church, and acting as medical advisors to great organizations like RVNAHealth and ACT of Connecticut. (Tag the orgs).
Q: Why did you decide to go into orthopedics and to commit to total joint surgery as your specialty area?
A: Dr. Dunleavy: In orthopedics, there are tangible results. Something is either broken or it's not. You're either doing better, or you're not. My passion for orthopedics is very straightforward– I want to fix the problem. That's why I entered into the field of joint care, because our joints are everything. Without proper mobility, there is a reduction in your quality of life. I assess problems before they become detrimental so patients can have the benefit of immediate results.
Q: If you had a day all to yourself what would you do?
A: Dr. Dunleavy: I'd do something fun with my wife and kids. We love going to sporting activities together, exploring all the beautiful hiking trails in the area, watching Georgetown basketball and supporting St. Mary's school.
Q: What have you learned about yourself during the pandemic?
A: Dr. Dunleavy: It was an eye-opening experience. I learned just how adaptable we really are. The pandemic came swiftly and we all had to adjust quickly to be successful. Fortunately, there wasn't much disruption in our ability to care for our patients. The team at OrthoConnecticut is resilient, and we've come out stronger on the other end of this.
Q: Why are you excited about the new Ridgefield office location?
A: Dr. Dunleavy: The new, clean office space is a highly professional facility which is easily accessible in Ridgefield with lots of parking and an easy walk to the office. This is particularly helpful for some of our older patients undergoing treatment for hip issues. As a Ridgefield resident and sports coach, I am thrilled to welcome my patients, young and old, to a great office space right here in town. Having kids myself, I realize how important it is to have the best care really close to home.
Q: Are you available for emergencies in Ridgefield?

A: Dr. Dunleavy: We are offering our OrthoCare Express emergency service at the Ridgefield office during weekday hours. So people who experience a fall on the ice, on their driveway or at the Winter Garden, for example, can come right over and be seen immediately by an orthopedic professional.

Dr. Dunleavy has committed his life to helping others through the practice of orthopedics. His experience with joint, hip, and knee replacement surgeries, some utilizing state-of-the-art robotic techniques, has allowed him to provide excellence in serving the patients of Ridgefield and the greater Danbury region.

When it comes to orthopedics, Dr. Dunleavy is truly focused on the patient and getting them back to strength and mobility. His ability to serve the whole patient as they progress through a joint replacement journey, both from a surgical standpoint and empathizing with the emotion that often comes with going through the recovery process, is effective in getting patients back to doing what they love. If you're experiencing pain, know that there is a solution, and help is nearby in Ridgefield.
Meet OrthoConnecticut Physician Assistant Christopher Geier, PA-C
March 10, 2022
Christopher Geier, PA-C, ATC, is a 23 year veteran in the field of sports medicine.
As a certified physician assistant, Geier's path to helping others recover is what led him to the Sports Medicine Center at OrthoConnecticut, where he is an invaluable asset both in and outside of the operating room.
For years, Geier has worked alongside OrthoConnecticut's President and Sports Medicine physician, Dr. Michael Brand. Through Geier's work as a physician assistant, he is able to provide care to the full spectrum of OrthoConnecticut patients as well as to the sports medicine department of the Danbury Hospital system. He can assess and diagnose patients' orthopedic conditions, and prescribe medication for care.
Chris Geier, PA-C earned two Bachelor of Science degrees, his first was with a degree in sports medicine at the University of Delaware and the second being in Physician Assistant Studies from the ​​State University Of New York At Stony Brook, School of Medicine. After that, Geier completed his education with a Master's degree in Physician Assistant Studies, with a focus on Orthopedics, from the University of Nebraska. Today, many can find Geier guest lecturing at his home institution at Stony Brook on various subjects related to the physician assistant program.
Chris began working as a certified athletic trainer for Danbury Orthopedics and local high schools and his exceptional skills in the field of sports medicine led him to the United States Olympic Program where he worked as an athletic trainer who aided in the recovery of volleyball and bobsledding athletes. To this day, Geier still stays involved with sports, and coaches in New Millford. His background, education and commitment to sports medicine was the catalyst to him co-founding the Western Connecticut Sports Medicine Society.
It is Geier's continued dedication to the field of sports medicine that enables him to provide excellent care for his patients. No matter the range of your discomfort, Christopher Geier is only an appointment away to help put your pain at ease.
If you're experiencing bone or joint aches, know that help is here. Contact the professionals at OrthoConnecticut to schedule your appointment with Christopher Geier, PA-C, or one of the other leading orthopedic specialists today at 1.833.ORTHOCT.
OrthoConnecticut Cuts Ribbon Unveiling New Ridgefield Location
March 07, 2022
First Selectman Rudy Marconi joined Ridgefield Chamber and the OrthoConnecticut doctors and staff for a Ribbon Cutting celebrating the practice's new Ridgefield location at the Executive Pavilion, 90 Grove Street, Suite 107.
OrthoConnecticut's new Ridgefield office is a modern facility with ample parking and all the amenities and features that patients have come to depend on from the state's premier orthopedic group, OrthoConnecticut. These include physician expertise, expert diagnostics and treatment plans, the finest surgical technique, state-of-the-art imaging, prompt follow-ups, easy accessibility, and compassionate orthopedic care throughout a patient's recovery journey.
Meet The Physician: An Interview With Sports Medicine Specialist, Dr. Angelo Ciminiello
February 10, 2022
Dr. Angelo Ciminiello hits it out of the park when it comes to sports medicine. As a fellow sports enthusiast, Dr. Ciminiello has always had a passion for helping athletes. From playing Division 1 baseball in college, to serving as physician to the Boston Celtics and Northeastern University, Dr. Ciminiello has had a longstanding love and appreciation for sports and sports medicine.
It is this same passion for sports, medicine, and helping people that has led him to OrthoConnecticut. At OrthoConnecticut, every patient is treated with an individualized treatment plan and compassionate care. Dr. Ciminiello is one of the leading sports medicine specialists who routinely practices knee, hip and shoulder surgery. His philosophy is that you don't need to be a high-level athlete to receive high-level care.
Q: Why should a patient select OrthoConnecticut for their orthopedic care?
A: Dr. Ciminiello: Patients should choose OrthoConnecticut because we provide state-of-the-art orthopedic care in our own neighborhoods. Each of our physicians is board-certified and fellowship-trained in their respective disciplines. We also have our own orthopedic only operating room which allows us to provide an exceptional patient experience and the ability for patients to return home very quickly after surgery.
Q: Why did you decide to go into orthopedics (specifically sports medicine), as your specialty area? And why OrthoConnecticut?
A: Dr. Ciminiello: I chose sports medicine because I enjoyed playing sports my whole life. I have always wanted to take care of athletes, youth all the way up to professional, and because exercise and sport engagement is an important component of overall health.
Q: What is the most memorable surgery you have performed?
A: Dr. Ciminiello: The most memorable surgery was taking care of two broken femurs and two broken tibias from a bad car accident. That patient still sends me a Christmas card every year.
Q: If you had a day all to yourself what would you do?
A: Dr. Ciminiello: Wake up, kiss my wife, take a morning run, see patients, operate, go to one of my kid's sporting events, and eat dinner with my entire family.
Q: What have you learned about yourself during the pandemic?
A: Dr. Ciminiello: Always stay true to what matters most and be patient with those around you. You never know what kind of day they had.
Q: Why is OrthoConnecticut's Ridgefield office moving locations and what are the key features of the new space?
A: Dr. Ciminiello: We are moving locations because we wanted to be able to provide the same experience and clinical expertise currently enjoyed at our Danbury location. The new space is fresh and inviting, with more patient rooms, a clean, waiting area and has plenty of parking with easy access to the office from the parking lot.
Q: In addition to working with major sports organizations, where did you do your training?
A: Dr Ciminiello: I was lucky to begin my medical education at Thomas Jefferson University in Philadelphia, and complete my residency at the University of Connecticut Health Center. I completed my subspecialty training during my fellowship in Sports Medicine at the renowned New England Baptist Hospital in Boston, MA. All 3 centers were wonderful places to train and I learned from some of the best surgeons in the field.
With his passion for sports medicine, Dr. Ciminiello is pleased to serve his family, community and the great patients of OrthoConnecticut. His focus on the patient, a smooth recovery and getting each one back to mobility is a consistent thread in his practice. He is aware that life can throw unexpected curveballs, and is dedicated to making sure that he and OrthoConnecticut are ready to help.
Founding Member of OrthoConnecticut / Danbury Orthopedics Passes Away
February 10, 2022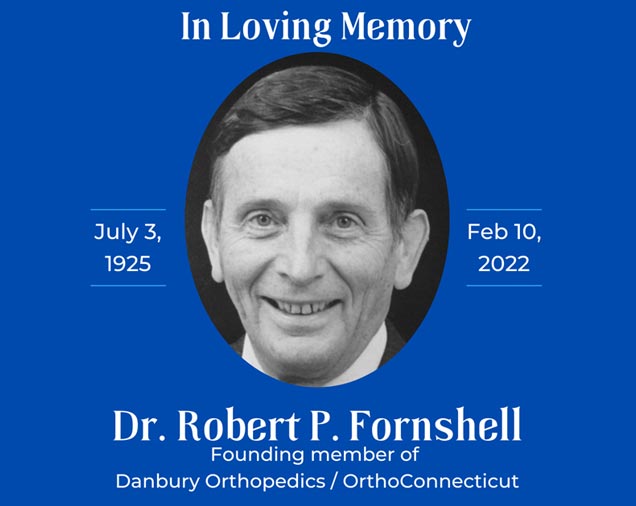 Our hearts go out to the Fornshell family, on the passing of Robert P. Fornshell, MD. Dr. Fornshell, 96, was a founding member of our practice, and an integral part of forging a strong medical and orthopedic community in the area. A gentle, kind, and caring physician, Dr. Fornshell was a respected colleague and talented surgeon. We are forever grateful for his legacy and are honored to carry it forward at OrthoConnecticut. Our thoughts are with the Fornshell family at this time.