Don't let hip pain limit your life.

Together, let's get you back into action.
Whether your hip pain is the result of a fall, a sports-related hip injury, or you are in need of a hip replacement, the first step in treating hip pain is to get an accurate diagnosis from an orthopedic surgeon who specializes in hip treatment. We offer one of the region's top teams of orthopedic hip specialists. Schedule an appointment ›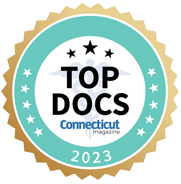 Why Choose OrthoConnecticut for Your Hip Orthopedic Needs?
Expertise
Our experienced orthopedic surgeons specialize in diagnosing and treating various hip conditions, staying at the forefront of medical advancements.
State-of-the-art Hip Replacement Techniques
Our hip surgeons specialize in both the anterior and posterior surgical approaches to hip replacement.
Personalized Evaluation
We perform thorough evaluations to pinpoint your hip pain's root cause, tailoring treatment to your needs.
Advanced Treatments
From non-surgical options like physical therapy to minimally invasive surgeries, we offer comprehensive solutions for pain relief and enhanced mobility.
Patient-Centered Care
Your comfort matters most. Our patient-focused approach ensures your well-being throughout recovery.
Convenience
Our multiple locations make accessing expert hip orthopedic care effortless, ensuring treatment is within your reach.
Common Hip Conditions We Treat:
Chronic Hip Pain
Hip Bursitis
Hip Fractures
Hip Impingement
Hip Dysplasia
Hip Osteoarthritis
Pelvic Fractures
and more...
---
Start your journey towards living pain-free with OrthoConnecticut. Contact us today to consult with our hip orthopedic specialists. Let us be your partner in hip health and wellness.
Schedule an appointment today ›
Your comeback story starts here.
To learn more or to schedule an appointment, please complete the form below and we will promptly reply to your request.
Please do not share any sensitive medical information on this form. For prompt attention to your medical questions or to schedule an appointment by phone, please contact our office at 1‑833‑678‑4628.
★★★★★
"OrthoConnecticut is top shelf in every respect. My hip pain became so bad that I couldn't get in and out of my car. My surgeon at OrthoConnecticut explained what was happening and how a hip replacement would improve the way my hip moves. With confidence, I had the surgery and am now essentially pain-free. From the office staff and technicians to the nurses and doctors, a high degree of cordiality, confidence, and competence are readily evident. Highly recommend." — Bob G.