The Total Joint Center
Specialists in Arthroscopic and Replacement Surgery
The Total Joint Center offers the full range of adult hip, knee, and shoulder surgeries. Our team of fellowship-trained orthopedic surgeons perform cutting-edge procedures using the latest technologies for superior outcomes.
Our surgeons subspecialize in fracture repairs and full and partial knee, hip, and shoulder replacement surgeries. Whenever possible, we perform minimally invasive arthroscopic surgery, which generally results in a quicker return to function and higher satisfaction. But not all patients who come to The Total Joint Center will require surgery. We first explore nonsurgical options, including bracing and physical therapy, according to the patient's symptoms, condition, and needs.
In addition, we are especially sensitive to treating older patients who have experienced geriatric trauma or are suffering from osteoarthritis, rheumatoid arthritis, or other inflammatory joint diseases.
At The Total Joint Center your highly trained team of hip, knee, and shoulder surgeons and rehabilitation therapists will take an integrated approach to your recovery. Our multiple locations offer top-quality care without a commute, making your surgery and recovery more convenient for you and your whole family.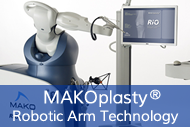 View video...
---
---

Conditions treated:
(partial listing)
Total hip replacement surgery (posterior and anterior approach)
Revision hip replacement surgery
Total knee replacement surgery
Revision knee replacement surgery
Arthroscopic knee surgery
Arthroscopic hip surgery
Arthritis management (osteoarthritis, rheumatoid arthritis, psoriatic arthritis)
Management of disorders of the hip and knee
Meniscus tear (ALC, MCL)
Bursitis and tendonitis